HURRY! OUR SCHEDULE IS LIMITED AND FILLS UP FAST.
GET OUR CLASS SCHEDULES, PRICES AND WEB SPECIALS
We value your privacy and will never share your information with anyone, ever!
Throughout the games and activities we also teach all of the kids some cool martial arts.
This gives them something fun to bond over for the weeks to come. They can practice and show off for each other and "re-live" the awesomeness of the party!
While theme parks and 'fun zones' where kids run around crazy can be fun…
They can also have a lot of down time, and they can get pretty old pretty fast!
That's why our parties have something fun and exciting planned in EVERY moment. There won't be a single second of down time.
Your child will LOVE showing off what they've learned in class in front of all of their friends.
We make sure to put them right in the spotlight where they can really showcase what they know.
Here's Everything That's Included:

1.5 hours of supervised action!
Take a load off! We'll keep a careful eye on all of the kids while you have fun and relax.

Non-stop action, fun, activities, and martial arts the entire time
Give us a call to find out more about our exciting birthday packages!

15 kids are included
(Need more? Only $5 per additional child!)

Fun for the parents
Want to dive into the action? Join us in any activity or game!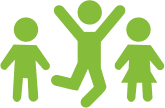 Your child will be at the front of the room teaching their friends right alongside us!
They'll feel like a total rockstar!
Pizza & other awesome birthday food!
What kids' party is complete without it?
Check out what
G

o

o

g

l

e

users are saying
Can't recommend this place highly enough. I have trained at Complete Self Defence for over 10 years now, having started at the age of 13. If you are in the area, go along and check it out, I promise you won't regret it. CSD offers: - Clean and professional training facilities and equipment. - Quality classes that are always full of variety, there is always something new to learn. - Experienced and knowledgeable instructors with a regular roster of high of high ranked black belts to learn from and train with. - The school is very friendly and family orientated, anyone and everyone is welcomed with open arms. - World class training under world renowned instructor, Grandmaster Geoff J. Booth.
Undoubtedly a place I would recommend. Having come here since I was five, it has been a place I have grown up with and it has taught many things from respect to discipline as well as friends for life. The equipment is top notch, the people are great and the experience is even better. So if your looking for a workout, a way to get back into shape, an activity to get the kids into or just something new, I would definitely give Complete Self Defence a go. First class is always free! Hope to see you guys in class 🙂
Great place to train and learn a self defence art that will transform your body, mind and outlook of life. The school has friendly and supportive staff, from Ma'am Donna supporting any admin questions at the front desk, to training with some of the best hapkidoist around and to also be trained by Grandmaster Geoff. Highly recommend this place and is great for families or individuals looking to improve their lives.
Complete self defence offers a great quality of martial arts training for all ages, the awesome team of instructors are highly qualified and are very helpful in guiding you to your goals all lead by world renowned instructor Grand Master Geoff. Along with a great friendly atmosphere the facility is world class and the class's are always fun and never boring. I've been training here for over 12years and have enjoyed being apart of this great family.
CSD has a great positive vibe about it with knowledgeable instructors and a great community. I have been going here for two and a half years and have enjoyed all of it. It is a clean training school with great equipment and quality classes, to help learn self defense.
GET OUR CLASS SCHEDULES, PRICES & WEB SPECIALS